Fernleigh 15
Event Info
20 OCT 2024
Time to get back on the Track!
Event Information
Event date
Sunday 20 Oct 2024
Location
Starts on Crn Park Avenue and Bailey St Adamstown on the northern end of the Fernleigh Track.
Start Times
6.30am - Race Office Opens - St Pius X Park Avenue Adamstown
7.45am – First wave marshalled to start via access footpath
7.55am – First wave starts with next wave 5 minutes later. There are 5 waves in total
8.10am – Registration office closes and car park is secured
8:15am – Last wave starts and infrastructure is pulled down
8.25am – First finisher finishes at Belmont
8.30am - Infrastructure progressively pulled down along the course
10.15am - The Fernleigh 1500 for children starts
10.30am- Last competitor finishes
Parking
Limited parking will be available at St Pius X off Park Avenue (close to the small roundabout on Bailey St). You must remove your car by 12pm. If using street parking in the area, please DO NOT park in driveways. Purchase a bus ticket for $10 to return from Belmont.
Marshalling
The course is only 4m wide and the start area is very small and we will require strict adherence to the start marshalling plan to allow safe and orderly wave starts. Were possible, we recommend getting a lift to the marshalling area at the school. Each wave will be walked down from the school on a path and will be crossed at the traffic controlled crossing. Park Avenue is a busy road and you must obey the marshals instructions.
ON-LINE ENTRY FEES - TBC for 2024
| | | | |
| --- | --- | --- | --- |
| Event | Early Bird | Standard | Late |
| Adult 15km | $65 | $75 | $85 |
| Child 15km | $50 | $55 | $65 |
| Family 15km (2 children – 2 adults) | $180 | $200 | $220 |
| Wheel/Race Chair | $35 | $35 | $35 |
| Fernleigh1500 (1500m run) | $25 | $35 | $45 |
Early bird ends 28 July. Late entries start 7 Oct 2023.
WHAT YOU GET!!
Apart from the opportunity to race in a professionally staged major event. You also get the following goodies with your entry:
1.FINISHER medals!! for everyone who finishers. Distributed in the recovery area.
2.Race bib number
3.Electronic timing with live results. Note we use a reusable chip that you must return in the recovery area. This must be attached to your shoe.
You also get:
1.One of the most unique and picturesque courses in Australia.

2.A traffic control plan to allow us to cross road points.There are 12 traffic controllers!

3.Medical services on site and mobile

4.The best sports MCee's in the business.

5.Pre and post race communication.

6.Donations made to local Running Clubs and Schools

7.Drink stations with water and electrolyte

8.Optional buses from finish back to start (for just $10)

9.Optional cool-dry running singlet (for discounted $15)
RACE KIT COLLECTION AND LATE ENTRIES
The race kits can be collected prior to race day as per below times OR on race morning.
Collection times prior to race day at Athlete's Foot Super Store in Kotara HomeCo are:
Friday 1pm- 5pm
Saturday 9am- 5pm
Collection times on race day at St Pius X school off Park Avenue:
Sunday 6.30 am - 7.45am
Note: ALL bags left at the start will be transported to the FINISH line for collection.
Please bring your phone for our race kit collection process. If collecting for others, you need written permission and photo ID for yourself. We suggest Team captains make the pick-up arrangements very clear to avoid collection or non-collection of kits.
CORPORATE OR TEAM ENTRIES
If you wish to pre or post pay for a large number of competitors for your company and or organisation, please contact us and we can provide you an option to allow them to enter without paying and we will send you an account for payment prior to the event.

Contact : paul@hevents.com.au
RACE CATEGORIES
1.Adult individual entrants will automatically be assigned to their respective age categories when entering their date of birth during the entry process. Ages are as on race day. Adult age categories are: 18-29, 30-39, 40-49, 50-59, 60-69 and 70+.
Overall winners are taken out of the age categories.
2.Only children aged 12 years or older can be entered in the 15km run. Age categories are 12-13, 14-15, 16-17
3. Age category medals will be available for 1st, 2nd and 3rd place in all age categories.
4.Strollers are allowable however should start at the last wave and rear of the pack and stay to the left of the path.
Note: Special consideration will be given to experienced runners under 12 years of age. Please contact us for details on: (02) 4934 8138.
RACE PRIZES MONEY
·Overall, run winners receive trophies and also:

·Male and Female 1st, 2nd and 3rd place receive

1.1st prize - $500

2.2nd prize - $300

3.3rd prize - $200

·To be eligible you must start in the elite wave

·Overall, wheel/race chair category winners receive trophies and also:

·Male and Female 1st, 2nd and 3rd place receive

1.1st prize - $250

2.2nd prize - $150

3.3rd prize - $100

·To be eligible you must start in the elite wheel/race chair wave
FINISHER MEDALS
The first 1000 entered runners RECEIVE A FINISHER MEDAL ...IF YOU FINISH!
Overall winners are taken out of the age categories.
RACE TIMING
Computer timing chips will be distributed to each competitor. You must wear the chip on your shoe. It must be laced into the shoe. Please remember NO CHIP equals NO
RESULTS
Interim times will be available live on race time. PLEASE WEAR YOUR RACE BIB (race number) ON YOUR CHEST FOR THE ENTIRE RACE.
Results will be available live on race day. Go to http://heventstiming.racetecresults.com
RACE PRESENTATION
Overall prizes will be presented once all place are filled and confirmed. This is expected to be around 9.30am. Age Category prizes will be presented once all places are filled and confirmed (subject to wave starts). This is expected to be around 10.00am.
LEFT BAG TRANSPORT/SECURITY
You can drop bags at the START next to the registration area. This MUST be collected from the FINISH area.
AID STATIONS/TOILETS
There will be 4 Aid Stations on the 15km course. These are located at:
1.Burwood Rd – 3.1km

2.Whitebridge – 5.2km – toilets also

3.Cowlishaw Rd – 9.2km - toilets also

4.Kalaroo Rd 11.8km

5.Both water and electrolyte at aid stations.
Look out for our volunteers from our local running clubs.
Toilets are available as above and at the registration and finish areas.
FIRST AID
Experienced and qualified medical personnel will be available at the start, on the course and finish Race Compound.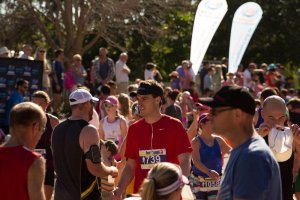 Share:
Event Races
Course Video
Updates